ACO Pacific's product and service offerings have continued to expand to meet the growing needs of the acoustics marketplace. The "Alternative" family is a broad line of
IEC61094-4 compliant
measurement microphones. Featuring metal diaphragms, 0 TC insulators and precision construction for accuracy and long-term stability. The growing range of companion products include: ACOtron™ preamplifiers; ACOustical Interface™; power supplies; microphone calibrators; "Extremely Random"™ Noise Generators and the ACOustiCap™ accessories continue to expand.
The "Alternative" Family of IEC61094-4 compliant Measurement Microphones are designed to meet and exceed stringent IEC and ANSI International standards. The Stainless Steel bodies, and selected stainless , nickel, and titanium diaphragm materials assure excellent long-term and temperature stability.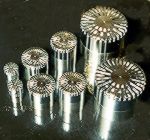 The flat, predictable Free Field and Pressure responses of these 1, 1/2, and 1/4 inch microphones is reflected in the individual "birth certificates" supplied with each microphone. Choosing microphones is now a pleasure not a chore.
Frequency response to 120 kHz (-2 dB) (Model 7016), Noise floors below 10 dBA (Model 7022), Maximum input to 175 dBSPL (3% THD)(model 7017) and Phase Matched Pairs (I & PM Series) are among the performance features of these microphones. The MK224 IEC61094-4 compliant and 7052 IEC61094-4 compliant Electret (prepolarized) capsules are also available. Companion power supplies - the PS9200 series, and the matching 4000 series ACOtron™ preamps round out the product line. These precision microphones are mechanically, acoustically, and electrically compatible with their more costly counterparts.
NEW!
Now Available for additional Savings:
MK224SYS combination package - MK224 and 4212
MK224PH - Phantom Powered Measurement Mic System

IEC61094-4 compliant prepolarized microphone capsules incorporate Titanium Diaphragms, PTFE Back Plate Electrets and "0" Temperature Coefficient insulators. The 7052E-E features Free Field response, 35 mV/Pa sensitivity and a 25 kHz frequency response.
NEW!
Now Available for additional Savings:
7052SYS combination package - 7052E and 4212
7052PH - Phantom Powered Measurement 7052E and 4212 Mic System