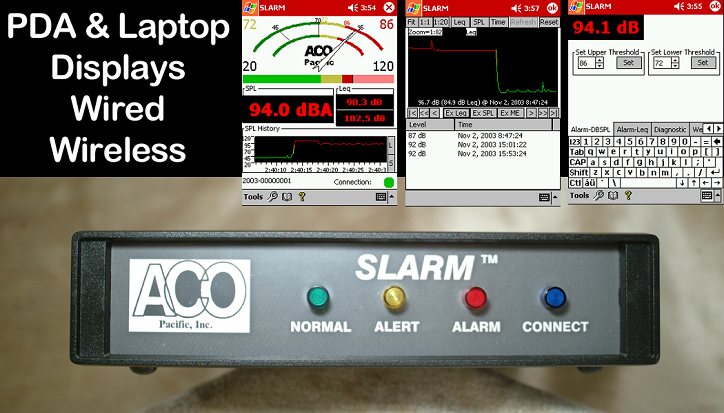 SLARM™ Sound Level Alarm
with DynLeq™ and Wireless (option)
The SA6000 ACOoustAlarm™ Family of SLARM™ Sound Alarms was developed in response to the increased emphasis on hearing conservation in the workplace, entertainment venues and the community at large. DynLeq™ and ACOoustAlert ™ technology combine to make the SLARM™ a powerful monitoring and sound level alarm system.

Day-to-day applications are many - Children's Day Care Centers, Offices, Discotheques, Rehersal Halls, Auditoriums, Concert Halls, Amphitheaters, and Movie Theaters are all sources of sounds we enjoy. However, TOO MUCH and we find ourselves unable to converse, or worse - at risk of hearing damage. These locations may benefit from SPL (Sound Pressure Level) Monitoring and ACOustAlert™ Technology.

Industrial environments include - Machines Shops, Stamping Mills, Assembly Lines, and other locations where noise is inevitable. OSHA and other laws govern some of this - however, continuous monitoring may not only prevent problems - but indicate them as well. A machine may generate even more noise - indicating the danger of breakdown.

Being a GOOD NEIGHBOR
By monitoring their operations on an on-going basis Warehouses, Marshalling Yards, and Construction Sites can work in concert with their neighbors to improve the overall quality of life in their community. Local Law Enforcement can use ACOustAlert™ to enforce Driveby Noise Laws and other noise related ordinances.

DynLeq™ is an adaptive dual Leq of the community noise level. Sound Levels exceeding the surrounding environment's average will Alert/Alarm when the Short Leq exceeds the Long Leq by a preset amount. Maximum SPL/Leq exceedence Alarms still function for individual and multiple events.

APPLICATIONS:
Community/Environmental
Auditoriums
Amphitheaters
Discos
Churches
Clubs
Movies
Classrooms

Rehearsal Halls
Hospitals
Offices
Studio Monitor Rooms
Drive by Noise Enforcement

Are but a few ...
Industrial

Machine/Plant Noise
Machine Fault Detection
Assembly Lines

Marshalling Yards
Warehouses
Construction Sites
Product Testing

And many more applications ...
The SLARM™ Family of SPL Alarms Feature:
Wired and wireless Alarm, Display, History and Control available
Programmable: dBSPL Alarm Settings, Leq Periods, F/S response
A, C and Lin(Z) Weighting Curve Selection
Real-time Clock Calendar (Optional) Permits Multiple Profiles and History
True RMS detection with >100 dB Dynamic range Standard 20 to 120 dBSPL, 40 to 140 dBSPL Optional to <20 dBA and > 175 dBSPL
7052E IEC61094-4 compliant Titanium Measurement Mic (std)
MK224 IEC61094-4 compliant (opt)
Remotable Mic/Preamp - to > 300 feet
Mic Calibration with 511E (opt)
Options Include:
Wired and wireless PDA/Computer Interfaces
Serial, USB, Wireless Connectivity
LAN Coming Soon
A Variety of Remote Displays, Controls and Outdoor Microphones
NEMA and other Packaging
Data Storage (History and Events)
Data Analysis on PDA and PC
Wireless Remote Displays and Alarms
SLARM™ SPECIFICATIONS:
Download SLARM™ Spec Sheet in .PDF
SLARM™ Video Presentations (.MPG format):
SLARM-SLARMNET (58MG)