The Model 3025, "Extremely Random"
TM
Precision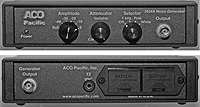 Noise Generator supplies White and Pink Noise, and a 1 kHz reference signal. Crystal controlled - the pseudo random circuitry provides a 6.5 Day pseudo-random cycle time, assuring a "Extremely Random"
TM
noise source.
Many computer generated noise sources utilize 16 bit registers with 32 kHz sample rates. The resulting 2 second pseudo-random cycle has a limited bandwidth - typically 50 Hz to 16 kHz and the repeated 2 second "fold-over" of the registers produce a measurable "click" - a source of measurement error often requiring averaging 10's or 100's measurements. The 3025 has a useful bandwidth of 1.6 Hz to 39 kHz with 119 uHz line resolution.
Portable, the 3025 utilizes 2 standard 9 Vdc alkaline batteries or the PS12 or PS22 (220 Vac Euro) AC adaptors. BNC Outputs Front and Back are capable of directly driving a loudspeaker, a 40 dB step attenuator with a 12 dB variable attenuator are provided for accurate control of the 2Hz to 40 kHz Noise Output. The 3025 is suited for use in a wide variety of Electronic, Acoustic, Architectural, and Vibration applications. A PS12 (110 Vac) or PS22 (220 Vac) wall adaptor is included.